Cassava exports will reach 2 billion USD/year by 2028 and increase to 2.5 billion USD/year by 2050. To achieve this figure, the cassava industry has 3 weaknesses that need to be resolved. That is: exports depend too much on one market; Processing technology is still outdated, there are not many deeply processed products; imbalance between processing and raw cassava growing areas…
The above goals and challenges were set out at the Conference: "Summary of 5 years of Vietnam's cassava industry, period 2018 – 2023 and Congress term III, period 2023 – 2028" of the Vietnam Cassava Association.
CHINA IS STILL THE MAIN EXPORT MARKET
Mr. Nghiem Minh Tien, Chairman of the Vietnam Cassava Association, said that cassava (cassava) is Vietnam's third most important food crop after rice and maize (corn). Up to now, the cassava growing area in the country is about 530,000 hectares/year, with a total output of over 10 million tons/year. Cassava and the processing industry have contributed to creating jobs for over 1.2 million workers, mainly in the midland and mountainous areas, making a significant contribution to poverty reduction and economic stability. economic and social.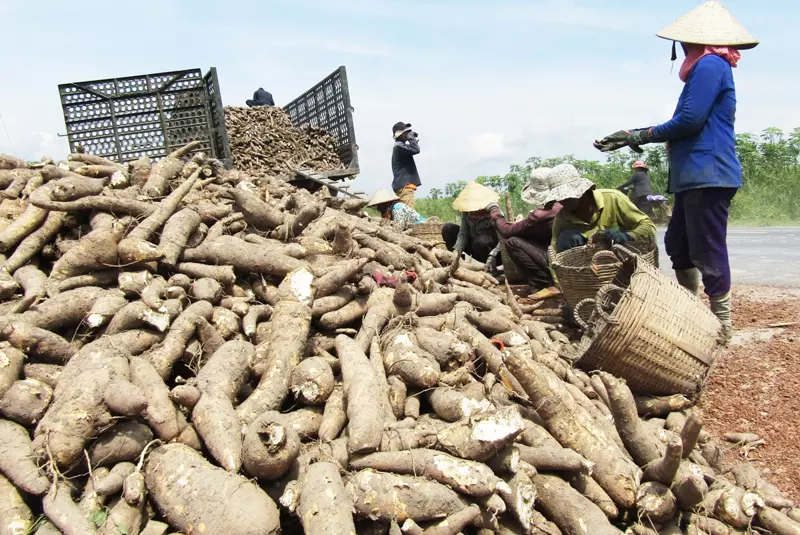 Harvesting cassava in Vietnam
Regarding the consumption situation, a representative of the Import-Export Department (Ministry of Industry and Trade) said that Vietnam's export of cassava and cassava products to China has tended to decrease in recent months.
However, in the first 5 months of 2023, China is still Vietnam's largest export market for cassava and cassava products. This market accounts for 89.9% of volume (1.22 million tons) and 88.47% of export value (467.62 million USD).
From local reality, Mr. Nguyen Dinh Xuan, Director of the Department of Agriculture and Rural Development of Tay Ninh province, said that in recent years, Tay Ninh's cassava growing area has continuously increased. By the end of 2022, the entire province has nearly 62,000 hectares of cassava; The average yield is over 32 tons/ha.
To date, Tay Ninh province has 65 cassava starch processing factories, with a total capacity of more than 4 million tons of cassava/year. Among them, there are 18 companies and enterprises with cassava starch processing capacity of 50 – 300 tons of flour/day and 47 establishments with capacity of less than 50 tons of flour/day. Currently, the main export market of cassava processing factories in the province is China, accounting for 70%; America and Europe account for 8%; In other Asian countries 10%, the rest is consumed domestically.
IMPORTANCE BETWEEN PROCESSING AND INGREDIENTS
Although the cassava growing area has increased significantly, according to Mr. Xuan, Tay Ninh's cassava industry still has some limitations. That is: there is no link in investment in purchasing raw materials between processing factories and farmers; A regional linkage policy mechanism has not yet been formed to attract stable, long-term investment. Currently, the local supply of cassava raw materials does not meet processing needs well.
The main reason is that processing enterprises have not developed raw material areas. Currently, the whole country has only a few factories that have been investing in raw material areas, meeting the needs of 30-40% of factory capacity.
Enterprises mainly apply the form of production and purchasing. Having many production facilities trading the same product in the same market can easily cause competition in raw material purchasing prices, especially when raw material sources decrease.